Garry currently resides in South Bowenfels, near Lithgow, in the Blue Mountains, NSW, Australia.

Garry was born in Lithgow, NSW, Australia in 1959. He was educated at Lithgow Primary and Lithgow High schools. He began painting at the age of 10 and is self-taught. Garry became a qualified electrician after leaving school. After an absence from painting for around 10 years, he started again in 1989. He finished as an electrician in 1994 to pursue a career in art.

Since turning professional, his career success has escalated, winning many awards, including Most Outstanding Traditional Landscape in the Sydney Royal Easter Show 2008, People's Choice Portland 2010, and Most Outstanding Traditional Landscape, 1st Figurative, Best Exhibit Art Classes 1-22, and Award of Excellence at Sydney Royal Easter Show 2011.

He has held 7 major solo exhibitions, all of which have been a huge success. He has featured in Australian Artist magazine, and is well on his way to reaching his goal of achieving high status amongst the best traditional artists in Australia.

For some years, Garry has struggled between owner-building and his paintings, working on a house in South Bowenfels that will eventually hold a gallery. In his "spare" time he continues to produce works. He hopes to finish the house in the next 5 years.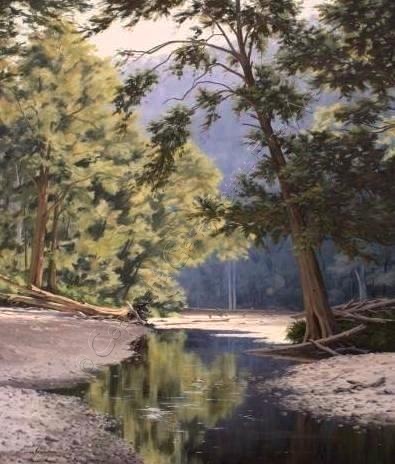 " TURON RIVER "

2008 Sydney Royal Easter Show Award:

Presidents Award for Best Landscape in Traditional Style